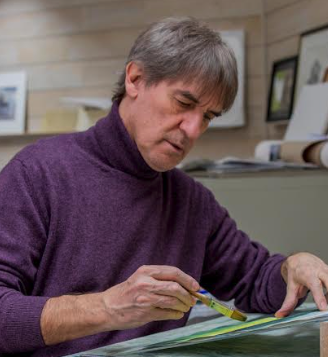 André Hominal est né en 1957, il vit et travaille à Genève.
Passionné depuis son plus jeune âge par le dessin, il pratique depuis plus de vingt-cinq ans la peinture et expose régulièrement. Il s'est formé au contact de nombreux artistes. Curieux denature, André considère son travail et son parcours comme éternel apprentissage. Il anime également désormais des cours et des stages. «Quoi de plus parfait que l'instant ?» André Hominal, peintre genevois qu'il n'ait plus besoin de présenter, capture avec son pinceau ces instants où la nature et la lumière sont au rendez-
vous, faisant vibrer les paysages. Pourtant ces petits détails qu'il aime tant peindre, un faisan, une trace de tracteur dans un champ, un rayon de soleil sur une eau tranquille, donnent à ses tableaux un goût d'éternité dans lequel nous aimerions nous fondre.»
André Hominal was born in 1957. He lives and works in Geneva. He has Passionately interested in drawing from a young age, has painted and exhibited his works for more than twenty-five years. His talent has developed through contact with numerous artists. Curious by nature, André considers his art and it's development to be part of an on-going learning process.
He now also organizes art courses and day sessions.
«What is more perfect than the instant? André Hominal, a Geneva painter who does not need presenting, captures with his paintbrush the instants when nature and light come together, making landscapes vibrate. The small details that he so likes to paint, a pheasant, the tracks made by a tractor in a field, a ray of sunlight on calm water, give his paintings a taste of eternity in which we would like to lose ourselves.»